Showing the Flag is a 2001 dark bay TB gelding.  He is about 16 hands and about 1100 pounds.  Flag never won a race, but it was not for lack of trying or the best trainers.  He just didn't understand he was to be in front.   Flag is well bred.  He was bred in Kentucky.  He is by Miesque's Son out of No Place But Win by Take Your Place.  He is the half brother to Roany Pony an Oklahoma Stakes Winner.  You an see his catalog page here.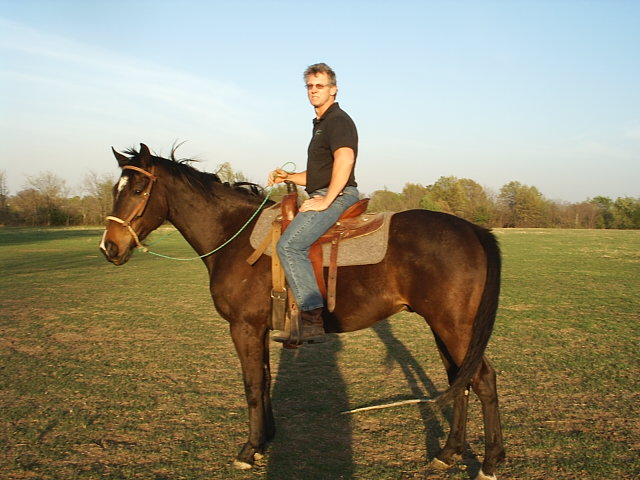 Flag began his retraining in spring 2006.  He is very willing to learn a new
job and seems to like pleasure riding.  Flag is the most handsome horse we have ever seen and everyone who sees him agrees.  He is the perfect show prospect.  He has perfect confirmation, handsome head, perfect neck set, and perfect carriage.  In fact his stud fee alone was $10,000.  Flag is a real bargain for anyone looking for a real quality show horse.
He does all the standard horse things:  Load, stands for the shoer, takes baths, is easy to catch.  He is current on his shots and worming.  Flag will be a great all round horse for anything you want to do.
Amber has been trail riding Flag and he has proven to be the most trust worthy of all trial horses.  We took him Memorial Day weekend 2007 and he stood tied to the high line for the first time just like a pro.  It did not stress him to travel and he performed wonderfully on the trail even crossing stuff that more experienced trial horses balked at.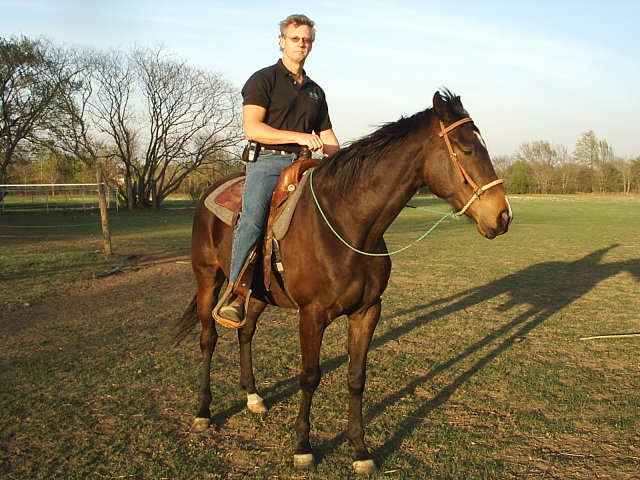 On August 25, 2007 he earned another trail badge.  Amber was riding Flag at Oologah Lake when she encountered ground bees.  Flag jumped, but did not run off with her.  When they got home Flag had over 100 stings, but managed to keep his head and perform like a well seasoned trail horse.  Course you know this means that with Amber riding Flag Deb gets to keep riding Maverick.  Amber trained Maverick for Deb, so she just might be doing the same with Flag.  🙂  Only time will tell.
Flag is currently being leased by his new owner. We hope to see them out on the trails soon!
Come ride a Champion at Sierra Ranch, LLC!
Deb Stowers Sierra Ranch, LLC 918-607-6094
http://sierraranchok.com/