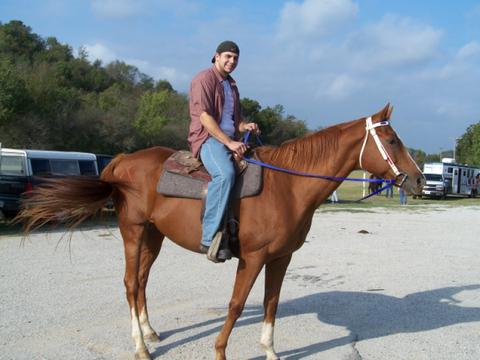 Serves Em Bud is a 1995 chestnut TB gelding. He is about 17 hands and about 1200 pounds. This guy is a real pro. He has had 26 outs and made $17,350 before re-injuring a tendon in his last race in August 2004. You can see his race record here! You can see his Catolog Page here!
Bud took a year off and was retrained to his new career of riding horse. And he is a pro at this also. He likes walking kids around the pasture and trail riding.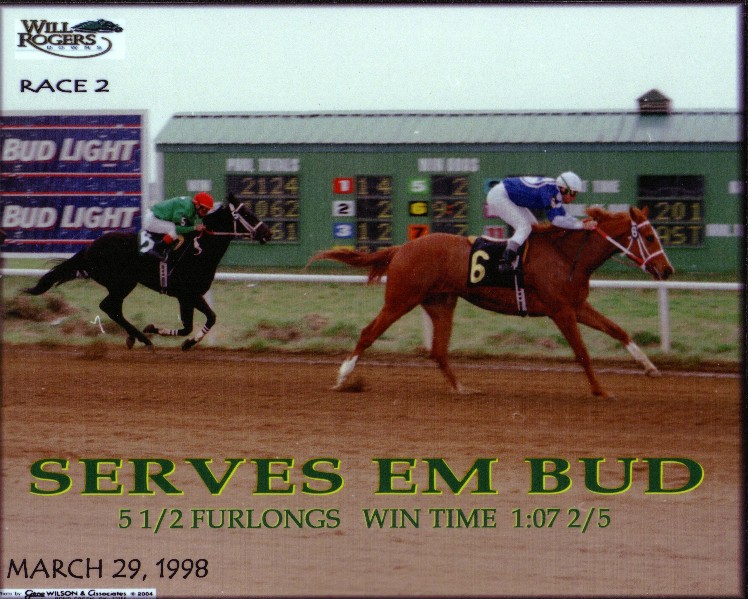 Rick has taken him on the trails and he does well. Bud has been to the Bad Girls Halloween Ride at Arrowhead and the OETRA Fall Ride at Cedar Lake in 2005. Bud is very much the joker of the pasture and will need someone who understands this when riding him. Bud has been ridden both in English and Western tack as well as bareback and does well. You can look for years to find a horse with this combination of size, conformation and attitude. He is one of the best prospects we have seen.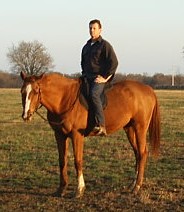 He does all the standard horse things: Load, stands for the shoer, takes baths and is easy to catch. He is current on his shots and worming. Bud is a great all round horse for anything you want to do.
See more pictures of Bud on Facebook!
Bud is a great horse for a novice rider. He is big enough to carry them and yet let's them know how he wants to ride. Bud is for sale for $1500 $2000 or best offer.  Bud is also available for leasing, trail riding, and lessons. Contact us to come ride Bud.