Reddie Whip is a 2002 dark bay TB gelding who we got in August 2007.  Remember I don't name them.  These are the names on their papers.  We nicked named him Whippit.  Whippit is probably around 15 ish hands and 1000 pounds.  You can see his pedigree here and his race record here.
Whippit has a pretty regular rider.  He and Dalia hit it off and have been pretty regular riding buddies for several years.  Dalia has taken Whip on many trail rides all over Oklahoma. Whip loves his life at the Sierra Ranch.  He loves it better when Dalia can come ride or groom him.  Dalia owns Whippit as of July 20, 2013.  Whip and Dalia learned a great deal at the boarding facility, but came back to Sierra Ranch on March 1, 2014.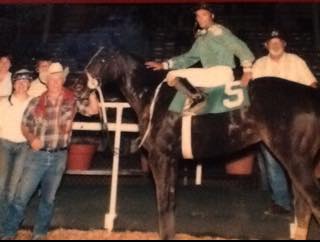 Dalia asked for the winner picture from Whippit's previous owner, Anne Landers,  and so we added it here. You can see his race record in the links above. This is her description of how she acquired Whippit and his life with her:   We acquired him as a payment on an RV we had sold and was financing. I took him on a hunter pace and did all the jumps on it just a week after he had raced when we first got him. He was always a really quiet horse that did about anything you wanted to do with him. He really liked to run in the longer races but we won with him going 5 or 5 1/2 furlongs. He was ridden in this pic by a good friend Rich Vasquez, he has the distinction of winning more official races on a single day than any other jockey in American racing history… I think 11! On the hunter pace there were 8 water crossings and Whip was leading the rest of the horses in our group across! No one could believe he was a racehorse or had just recently been run.
Dalia and Whip love to ride the trails.  If you want to ride with them contact us at Sierra Ranch.