Karama Trapp is one interesting horse.  We bought him after Rick pushed me to go look at him in his stall at Remington Park in OKC.  I had told Rick I was NOT buying another horse, but just one look and he was ours.
Karama raced for us a few races.  You can see his race record here.  You can see his pedigree here.  He was foaled March 1, 1999, and is out of Trapp Mountain – Karama Tales, by Castle Guard.  He is the most Arabian looking thoroughbred we have.  Click here to see a Winner's Photo.
He found a perfect match. She came out and rode the crazy horse when he had not been home from the track a week. She had her trainer out and rode him. Then her family came out and he was sold. Karama didn't like being in the barn in town and returned to the ranch. His rider came out and rode on occasion. Then we got the call they wanted to sell him, so we bought him back.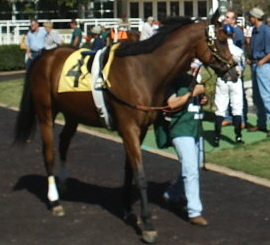 Karama is definitely a been there done that kinda horse. He seemed to be an old soul even when we first purchased him. He can do shows, ride trails, jump, and be a perfect gentleman. He is currently one of the horses available for lease at Sierra Ranch, LLC. He loves not being kept in a barn. He is great on trail rides. He does have some issues. He loves to crib and this is why life in a barn is not the life for him. Living in on the ranch he only cribs when in a stall usually eating.
Karama Trapp is for sale for $1000 $2500 or best offer. Come ride a Champion today!
More pictures can be seen on Facebook!
You can see Karama moving here!
If you want to ride the perfect gentleman then call us for an appointment.  Karama loves his life at the ranch and loves trail riding.  He is available for lease.
Come ride a Champion at Sierra Ranch, LLC!
Deb Stowers
Sierra Ranch, LLC
918-607-6094
http://sierraranchok.com/