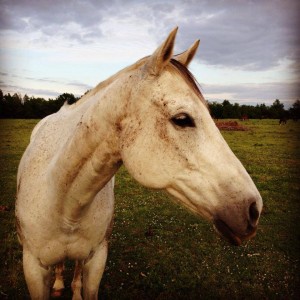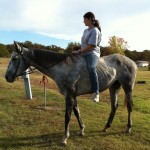 This is the story of the next great horse at Sierra Ranch, LLC. Let's start this off right.  If you see this horse for sale then you know I am getting out of horses. Click on the pictures to see them full-size.
Henry the K, barn name K, is a 2005 Kentucky-bred gray thoroughbred gelding that has an amazing past.  He is by Tactical Cat our of Cherokee Spell by Cherokee Run  You can see his race record here.  And his pedigree here.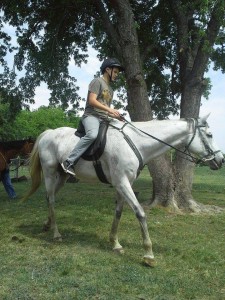 K came to Sierra Ranch, LLC on October 24, 2010, after a friend of my ex's bought him at the infamous Jones Horse Sale.  She saw who and what he was and snatched him up.  At the time, I just thought he was another ex, but he has proved to be so much more.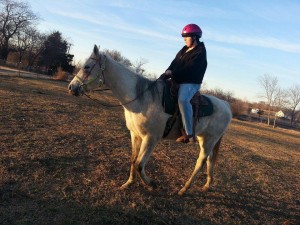 Looking at his race record you can see he ran 24 times for a little over $44k.  He won four times. Placed six other times. Not a bad record. Then looking at his pedigree you can see that he was sold as a yearling for $17,000. And folks think that asking $1000 for an "older" horse is crazy.
Henry the K is an amazing lessons horse.  He is very tolerant of those learning to ride.  If you show him you know how to ride he will be a bit more challenging.  There is no money in the world at this time that could buy him.  I spent the last several months evaluating all our horses and trying to determine who would be my next horse. And I am so lucky to call K that.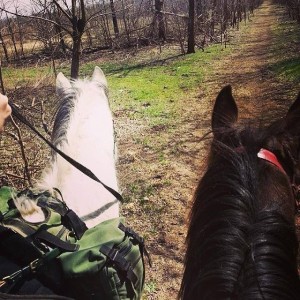 I am also lucky to have several folks who has ridden Maverick ride K.  And the verdict is that K is very much like Maverick. I need to have Amber ride K to be certain since she is probably the only person I know who rode Maverick at 10, but K seems to be fitting the bill of next horse for me.
When you see pictures of our horses on our Facebook page you will see lots of pictures of K.  K will meet you in the pasture, ask if you have treats, and escort you to the other horses. You have to love a friendly horse.
UPDATE: May 25, 2016. This Spring K was not filling out the way he should. We suspected lots of things. I took K to OSU to be evaluated on April 13th. They ran many tests, worked on his teeth and performed a sonogram. During the sonogram, a mass was found in his abdominal cavity very close to his front legs. All the tests determined there was no infection present, but the vets suggested 30 days of antibiotic and for him to come retest in 30 days.  Yesterday was K's retest day. The mass had grown considerably. My friends and I evaluated the options. Due to the location and possibility of recovery surgery was not an option. I donated K to OSU to use for teaching purposes. Besides, the mass he had a heart mummer. They will put K down and evaluate the mass. I feel certain it is cancer, but the vets are still considering that as unlikely. K gained 50 lbs over the last 30 days with us feeding him very well twice a day. He was eating well and had plenty of grass. He should have gained more weight. It was one of the hardest decisions I have ever had to make. I was thankful that OSU didn't ask for payment yesterday, but know the bill will come eventually. If your would like to donate to Henry the K's vet bill, please feel free to click on the button below.
Come ride a Champion at Sierra Ranch, LLC!
Deb Stowers Sierra Ranch, LLC 918-607-6094