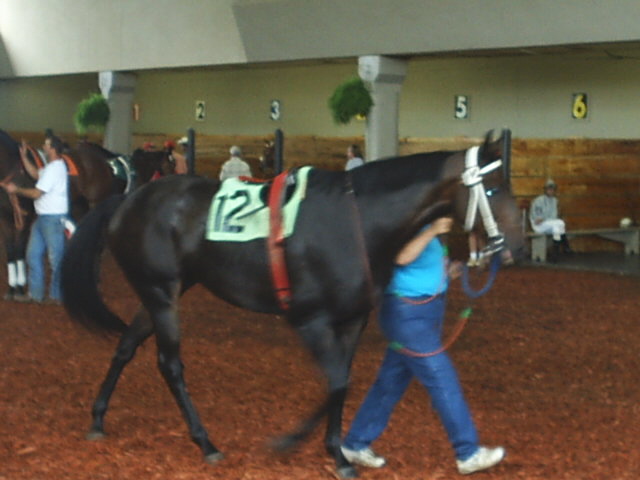 Henry the Fish was a 2001 dark bay TB gelding.  He was about 16 hands and about 1100 pounds.  Fish was a four time winner.  Click here to his race record. Click here to see his catalog page.  Fish lost his battle with a shoulder problem on September 10, 2012.
Fish began his retraining in winter 2007.  Fish had some race injuries that healed with time and he needed some time to take it easy.  He  took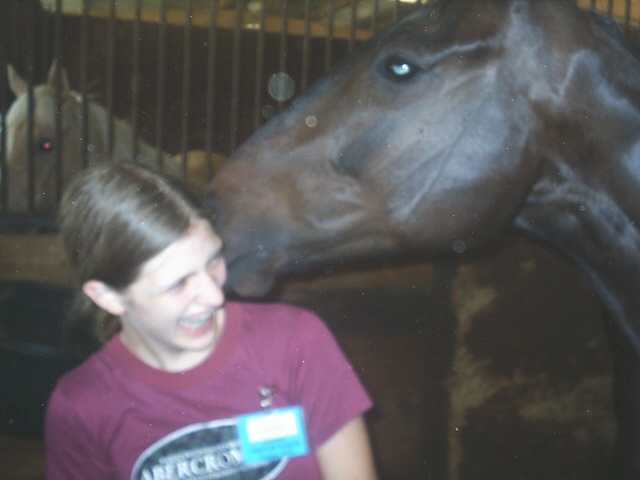 very well to retraining.  I loaded the video to our You-Tube channel of him riding and giving lessons in the pasture. 
The summer of 2009 Fish has an accident in the pasture.  We will never be sure exactly what happened or what damage he did, however the best we can tell he broke or dislocated his shoulder.  Fish is a fighter.  Everytime I thought I might have to do something drastic he would come back.  He wants to live and now has recovered enough to run and play in the pasture with all the horses.  He will never be ridable to anything more than a kid, but he is truely a lovable horse.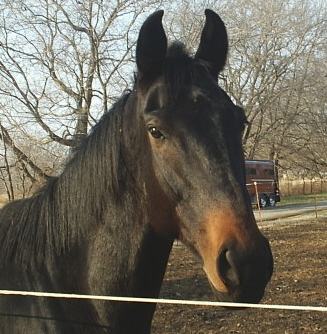 Fish had a very unquie look about him.  Notice his ears.  They curve inward more than other TB's.  I was told by the trainer that he was a bit inquisitive at the track.  He could get out of his stall and would go wondering.  Maybe that was what he did in the woods to his shoulder.  He has not done such at the ranch, but then we have not given him the chance to be silly.
Fish did all the standard horse things:  Load, stands for the shoer, takes baths, is easy to catch.    Contact us to make an appointment to see  one of our other horses.