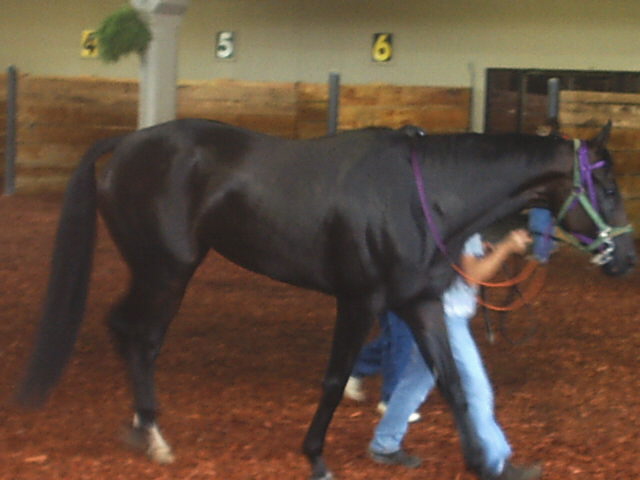 Coin Charger is a 1999 dark bay TB gelding by Royal Pennant – Miss Music Coin, by Pocket Coin. He is about 16 hands and about 1100 pounds.  He was foaled May 27, 1999. Charger is an Oklahoma-bred winner of 3 races for $18,296. He has turned into a great pet and is currently being retrained to do pleasure riding. Click here to see his catalog page and race record.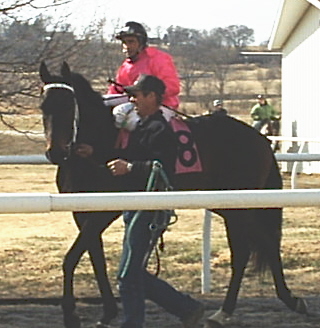 Charger is a very handsome horse with a very neat and unique personality. He tried very hard for us at the track, however, I think he was just done with racing. Rick bought Charger at the Tulsa stockyard sale on Rick's 50th birthday. Rick has thought of making Charger his spare, however, Rick really likes mares. Ashley has ridden Charger in the pasture.  Charger has been having some issues with riding. He was a bit anxious at first thinking he was going back into training. We hope to take Charger on his first of many trail rides when he finally meets his rider. Charger is a winner with a winning attitude. Charger needs a very experienced rider and a bond before he begins riding.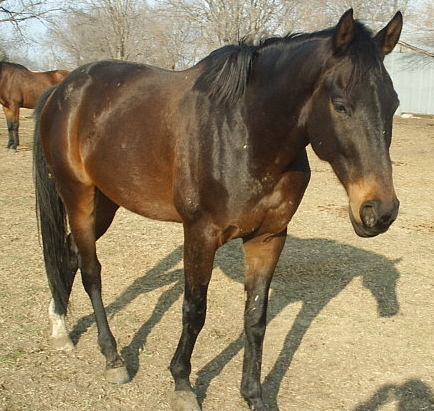 Charger does all the standard ex-race horse things: Load, stands for the shoer, takes baths, is easy to catch. You can tell that from the pictures in the pasture. He is always the first one to greet you in the pasture. He is current on his shots and worming. Charger returned from the track with no leg problems unlike many of the ex-race horses. However, he has limited sight in his left eye and tends to be a bit spooky on that side until he trusts you.  This has been our challenge with riding Charger. He will occasionally let folks he likes on his back and ride for a bit, but more often that not he will either not let you on him or toss you at will after getting on.
Charger will be a great horse when he meets that one person he will let ride him again. If you feel up to the challenge of a very different kind of ex-race horse, please contact us. Charger and Talent will probably always be in our care until they go over the Rainbow bridge. If you would like to help support them please click the button below.
Come ride a Champion at Sierra Ranch, LLC!
Deb Stowers Sierra Ranch, LLC 918-607-6094
http://sierraranchok.com/